In the light of the weakening pandemic, the symposium will be held both in-person and online. In-person participants will present their papers live, but those who couldn't come will join an online conference with their web presentations.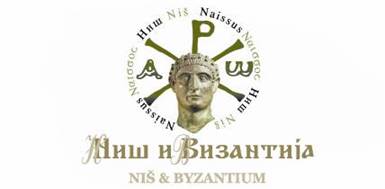 International Symposium of Byzantologist
NIŠ AND BYZANTIUM VII
"In Glory of St. Emperor Constantine the Great, 337-2007"
Celebrating the Festivities of St. Emperor Constantine and Empress Helena, the City of Niš for the seventh time gathered together eminent byzantologists from Europe and USA under the roof of Niš University. Since this year, thanks to the rector PhD Radoslav Bubanj, University of Niš has been co-organizer of the international symposium of byzantologists. This has specific importance, since the branches gathered by this symposium do not have their study groups in Niš: art history, archeology, classical philology, theology. Through its participation Niš University actually reveals the intention to open all those "windows", as it was beautifully said by our Nobel Prize winner Ivo Andrić, in far 1965 on the occasion of opening the University of Niš.
For scientific evaluation of the Symposium which will be supported from now on by Niš University, as well as, for all those outstanding scientists who have participated so far at Niš byzantologist congress, more than 250 of them, whose authority has contributed to reputation and significance of the symposium, this is the greatest reward. For the working group of the Scientific Board (arch. Jovan Mandić, PhD Vlastimir Djokić, PhD Hranislav Andjelković, Miša Rakocija, PhD Franc Curk, Milica Todorović, Marica Maksimović, PhD Goran Maksimović, PhD Dimostenis Stratigopoulos, Irena Ljubomirović, Miomir Vasov, MSc, Elena Vsić Petrović, Tamara Milenković), it is a confirmation of good and quality work on organisation and creation of symposium. City Municipality Mediana headed by the president Dragoslav Ćirković, can be proud for it has recognized the significance of the symposium "Niš and Byzantium" and whose support is of special importance.
All knowledge of the respectable guests has been intended to levitation of personage and deed of St. Emperor Constantine and Empress Helena, with the clear aim to indicate importance of both Niš and Byzantium for the entire Christian world and European peoples. We always have to bear in mind that thanks to one Niš old resident - Emperor Constantine the Great, European peoples have been spiritually and culturally united. Thus it is not surprise that from the moment when St. Emperor Constantine was born in Niš, as old chroniclers noted, a pretty forgotten epithet "glorious" was added to the name of the City, and now by the presence and knowledge presentation of the eminent researchers it has been brought back to it.
In the very beginning the guests were pleasantly surprised by solemn voices of St. Nicholas Church choir members, who primarily performed from the University Hall gallery the Oda to St. Emperor Constantine by Nened Radulović.

Symposium opening,
PhD Vera Bitrakova Grozdanova

Cultural Monuments visit tour,
Latin Church in Gornji Milanovac by Niš
Symposium "Niš and Byzantium VIII", as all previous, began to work having been blessed by Reverand Irinej, Bishop of the Niš Eparchy. The opening proceeded with welcome word of Mayor Smiljko Kostić. On behalf of University of Niš the meeting was welcomed by pro-rector PhD Biljana Predić who passed the greetings from the rector PhD Radoslav Bubanj. The symposium was opened by PhD Vera Bitrakova-Grozdanova (Skopje). The Proceedings of "Niš and Byzantium VI" and its e-version of last year meeting were presented by PhD Aleksandar Popović (Beograd): "I dare to notice that scientific level of this symposium is higher by every year and it has grown into a serious congress for which many bigger cultural centers could envy City of Niš. The greater number of foreign participants testifies to this. At the beginning it seemed to me that the idea to hold the symposium up to 2013 was overambitious, and, saying honestly, a little bit fanatical. However now when the half of the road has been reached, not only that I am convinced we will be in Niš on June 3rd 2013, but it has become a matter of prestige among medievists to participate in. I wish the organizers to have a lot of work on deciding who would be honored and privileged to participate at the congress "Niš and Byzantium 2013".
In the end the symposium participants visited basilica with martirium, Latin Church in Gornji Matejevac and the St.Jovan Church in Orljane village. Tour of these locations which are recognizable sign of Niš abroad, was a good occasion to start in the field the discussion on Byzantine art development in this area, and also about what to do to make local public consider their importance and get more interested in them.
According to the participants opinion the scientific level of presented work papers at this year symposium was extremely high. The representative Proceedings in which the papers will be published, its CD version, together with the presentation on the web-site http://www.nis.org.yu/byzantium/english.php, as all previous, will contribute a lot that glorious City of Niš take the position on the cultural map of Europe. Symposium "Niš and Byzantium" is a respectable international scientific byzantologists meeting with which the City of Niš can proudly celebrate the anniversary of Milan Edict in 2013.
It is up to us to maintain the gained, and to enable eminent byzantologist to gather together in the City of Niš every year, and thus to build the eternal temple in glory of St. Emperor Constantine and Empress Helena.
Exceptionally great interest in Niš symposium enforced the organizers to make selection among 54 applicants and to invite 36 participants. Because of the limited budget we had to reject equally quality work papers. The Scientific Board once again by this occasion apologizes to those authors hoping for their understanding and that they will contribute to the symposium significance and reputation by their presence next year. This year the work papers were presented by researchers from Great Britain (3), Italy (3), USA (1), Romania (1), Greece (6), Hungary (1), Bulgaria (4), Macedonia (2) and Serbia (15). The greater number of foreign participants than the domestic most indicates the significance and gained reputation of the scientific meeting "Niš and Byzantium", and the words of PhD Carolyn Snively (Gettysburg College, USA) just confirm that: "This series of scientific meetings opened in 2002, has become well known in the whole Balkans and wider. The scientists from different parts of the world have come to take part personally, to listen to work papers presentation about many themes and to obtain the knowledge on Niš and its surroundings history and monuments. Regular publishing of the symposium Proceedings in form of attractive book, its CD version and as a link on the web-site, make the symposium easily accessible to wider auditorium. By sponsoring this annual symposium and its publications, the City of Niš has got famous, or to say in English manner "it got pointed up on the world map"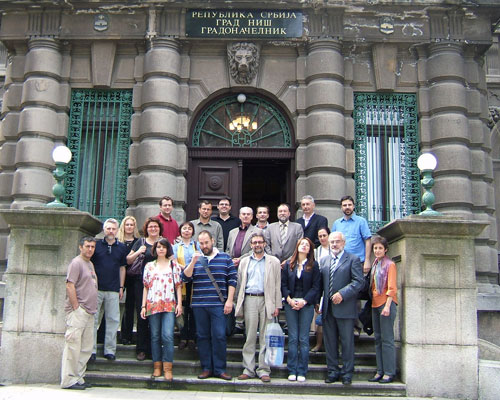 Symposium participants
Miša Rakocija
Translated by Ana Mišić, coordinator